Traditional Dress Of Karnataka:
Karnataka is renowned for its vibrant culture, mouthwatering cuisine, dance styles, works of art, music, and traditional garb.
The cuisines, distinctive art forms, and clothing worn by the populace are all strongly influenced by the heritage, multilingual ethnicity, and history of the region.
In addition to being well-liked in India, the attire worn by both men and women in Karnataka is well-liked worldwide.
Here is all the information you need to know about men's and women's traditional attire in Karnataka.
Karnataka's Traditional Clothing for Men
Kurta and Lungi are the traditional garb for males in Karnataka.
A long shirt that reaches the knees is called a kurta. It is worn with a loose pant called a "lungi" or "dhoti," which is wrapped around the legs and tied at the waist.
Angavastram, a piece of clothing worn above the shoulder to cover the top region of the torso, is used to embellish the overall ensemble.
It can be worn by Karnataka men with or without a kurta.
Clothing Customary For Special Occasions:
Men dress in Panche, a white-colored variety of dhoti, for special events. It is worn with Angavastram and conventional kurtas.
This entire outfit is a fantastic example of a man wearing Karnataka culture.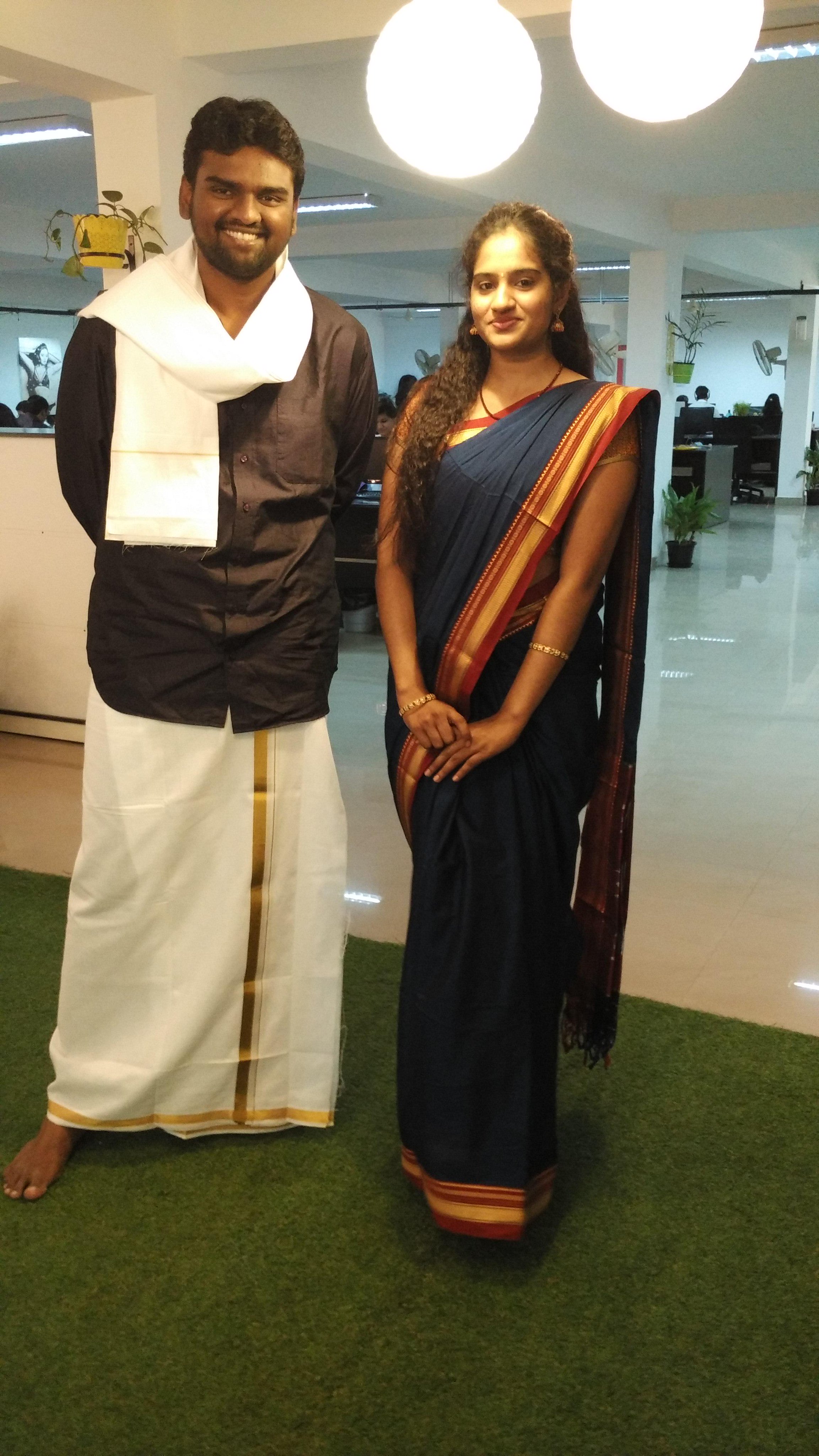 Traditional attire of the Kodagu District:
Kodagu residents have a distinctive way of adorning and wearing. The men add decorative sashes, swords, and daggers to their clothing.
Black robes or tunics are worn with the ensemble to complete the royal aesthetic. For festivals, weddings, and other occasions, men also accessorize their attire with gold-trimmed turbans.
Women's Traditional Karnataka Clothing
Women in Karnataka wear silk sarees that were expertly and precisely woven by local weavers. The sarees are made from a range of fabrics, including cotton and vintage Mysore or Bangalore silks.
Not only are these sarees well-known in Karnataka, but all of India as well. At some point in her life, every Indian lady has wanted to purchase a traditional Kanchipuram saree.
Kanchipuram sarees, the traditional clothing of Karnataka, come in a broad variety of styles, designs, and color combinations, although the classic ones are manufactured in red, pink, cream, red, and white.
Karnataka's Kanchipuram or Kanjeevaram sarees feature stunning motifs and a remarkably smooth and luxurious texture. These sarees are handcrafted by craftsmen and given the depth of South Indian culture through dyeing and Zari embroidery.
Zari art is created using a fine silver wire and pure silk thread, then it is gilded with pure gold. The sarees' sheen is enhanced by zari.
Costumes from the Kodagu District
Kodagu district women wear sarees in a unique style. The pallu is positioned over the shoulder and the pleats are fastened on the back.
Silk and cotton are both used to make traditional Kodagu sarees. These sarees include bright themes that reflect Karnataka's culture. The saree's body is decorated with patterns, stripes, or floral embroidery.
The Ilkal Saree:
One of the most well-liked fashions for women to wear in the Karnataka culture is the ilkal saree.
The town of Ilkal, which is part of the Karnataka district of Bagalkot, is where the name Ilkal originates. These sarees are constructed from both cotton and silk. These sarees are excellent examples of girls' traditional Karnataka clothing.
Cotton warp is used for the body of a traditional Karnataka Ilkal saree, and art silk warp is used for the border and pallu.
Simple designs make up the Ilkal saree's main body, and a stunning pallu features lovely motifs like temple towers, palanquins, elephants, and lotuses.
An Ilkal saree's border, which measures between 4 and 6 inches wide, is its key selling point. The saree's pallu and bottom both have striking borders that give it a stunning appearance.
Pomegranate red, peacock green, and parrot green are the common hues utilized in sarees.
Wedding Dress:
The brides' sarees are made of a specific color known as Giri Kumkum. In addition to brides in Karnataka, this Karnataka culture attire is also worn by brides in other parts of India.
Popular Silk Types in Karnataka
Silk saris from Mysore:
Genuine silk is used to create Mysore silk sarees. Because of the high standard of silk, sarees have a long lifespan and require little upkeep.
Pure gold zari embroidery can be found on Mysore silk saris.
While the modern Mysore silk sarees feature designs other than zari, such mango buttis and floral borders, the classic ones are still covered with zari.
To meet the increasingly diverse fashion needs of contemporary women, artists are even turning to kasuti stitching and bandhani work.
Mumbai Silk Sarees:
Red, orange, blue, yellow, green, and maroon are just a few of the vivid hues used to make traditional Bangalore silk sarees.
They are decorated with zari designs, gold-printed patterns, and motifs of peacocks, flowers, leaves, and other birds.
Big and bold borders are another feature of Bangalore silk sarees, particularly on the pallu. These sarees are excellent choices for girls' traditional Karnataka clothing.