As is well known, Bihar has unique cuisine. Therefore, if we only consume that meal in the state, the taste can be more refined. If eating the same meals every day, such as dal-chawal, chapati, and vegetables, is making you feel really bored. Then you must sample the regional specialties of Bihar, and we can persuade you that you will enjoy it once you have. After learning about Bihar's traditional cuisine today, you will undoubtedly agree that it is the best and most flavorful meal there is. In addition to its sweet cuisine, Bihar is also known for its sweet language.
Popular dishes in Bihar:
1.Litti Choka:
Although Litti Chokha's mouthwatering flavor doesn't require an introduction because everyone loves it. It is your formal respect to the famed ghee-dripping Bihari cuisine. It is made of spiced wheat and sattu that has been compacted into sharp, oblong balls and covered in ghee. Litti has a unique texture and a crunchy crust that appeals to foodies. Chokha is made by chopping cooked vegetables, adding spices, and sweating onions, garlic, etc. Chokha is best served with Litti.
2.Mutton Curry
To prepare a mutton meal, there are a variety of different common cooking techniques. The composition, use of spices, and cooking time of these recipes vary. These various cooking techniques might appeal to you if you like a certain spice combination or a snack that has been cooked gently for a good flavor.
3.Khadi Bari
This perennially popular dish is yet another essential component of Bihari cuisine. Both the Badi and the gravy (Kadhi) are prepared using besan. Yogurt also appears in the gravy. with rice and/or puris as a side dish.
4. Reshmi Kebabs and Mutton Kebabs
Bihar is justly renowned for its mouthwatering non-vegetarian delights. The well-known mutton kebabs from Patna have a very rich history. You are drawn to Mahgu by the aroma coming from a modest shop in Kadamkua; his great-grandfather worked as a cook on the British bench. Your taste buds will appreciate Mahgu's mutton kebabs.
5.Puri Sabzi:
The lively variety we incorporate into our cuisine has taught Biharis how to make a variety of bread. Give them whole wheat flour or any other type of grain, and it is unlikely that they will provide you with mouthwatering platters of bread accompanied by the finest foods. Every home serves poori, a little round deep-fried bread, for breakfast. Poori is a highly practical bread that may be customized with gratings and mashes to add flavor and lusciousness. In the past, it was more of a staple diet for the locals.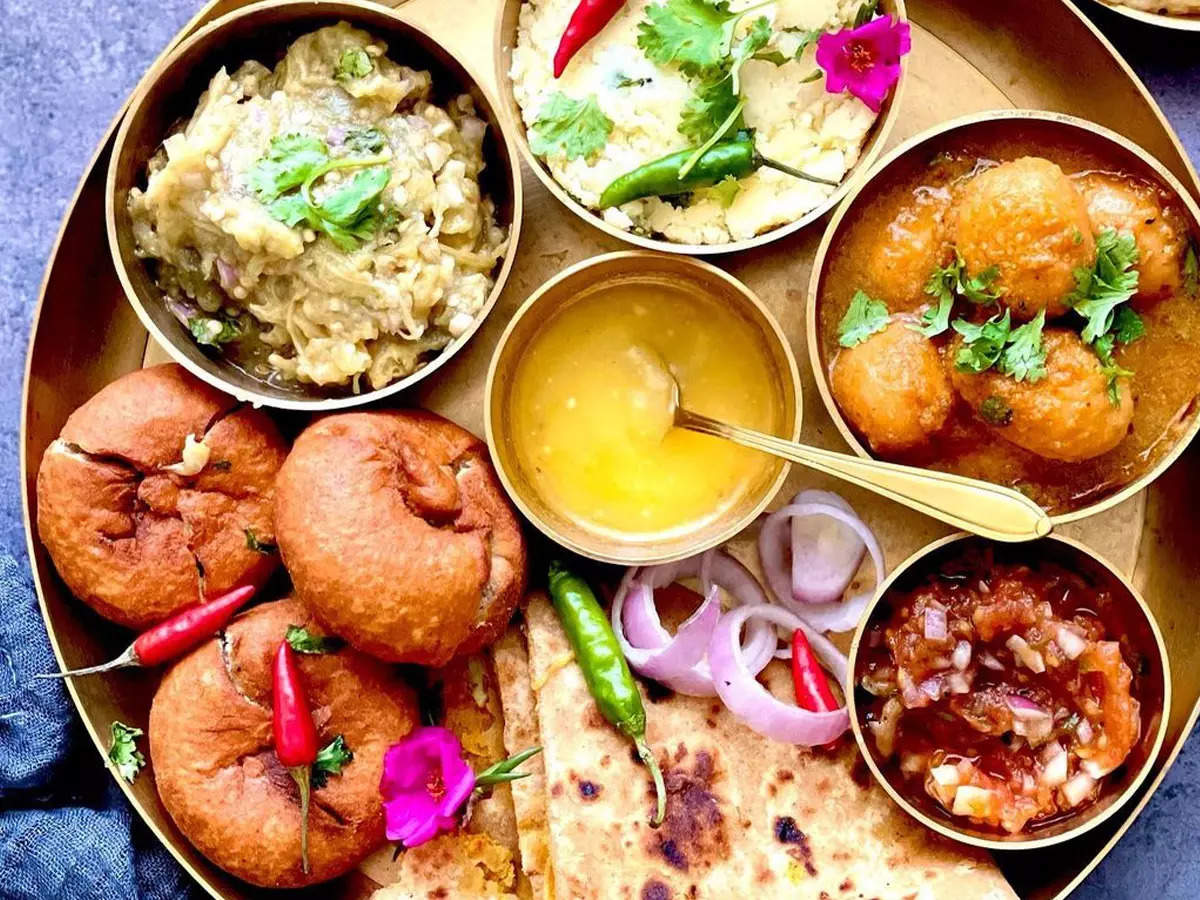 Famous Bihar Street Food
1.Bhelpuri
Bhelpuri originated in Mumbai, but it bears a distinctive Bihar imprint. It is undoubtedly a type of chaat made of rice, mixed vegetables, chutney, and other ingredients that attracts many people. There are many different tastes and textures, including fried sev and rice pudding. The food on the streets of Bihar includes bhelpuri.
2.Batata Puri
Beautiful in design, the batata puri is the perfect Indian snack. Every bite of the crispy puri is a burst of vivid flavors. You get a strong, spicy taste when you combine the sev and mushy potatoes with the crunchy puri. The puri looks beautiful with the sev and potatoes on top. It is one Bihar street meal to try.
3.Rolls made of lababdar:
The lababdar roll is a well-liked street dish. It is also traditional in Bihar, where aloo or onion paratha is frequently served alongside the rolls at the street food vendors. Cream is roasted with onions and a mixture of spices in a hot tomato sauce to create a creamy texture. then rolled in rotis after stuffing. One of the most popular variants of these rolls, with the ideal flavor combination, is paneer. The mild cheese pairs beautifully with the powerful spices.
4. Kebabs of mutton
Bihar is known for its non-vegetarian cuisine, and the region's street food is dominated by delectable kebabs. a mutton kebab served with a variety of fried veggies that is grilled. Bihar's streets are filled with the aroma of kebabs.
5.Chana Gugni
A spicy-tangy evening snack called Chana Ghughni is a staple of Bihar cuisine. This mouthwatering delicacy is made in practically every Bihar family and is both extremely popular and delicious. You can quench your appetite with "Chuda ka bhaji" and boiled chickpeas that have been fried with onions and spices. Other salty treats are made using dried and flattened gram.
6. Thekua/Khajuria:
The Bihari snack that is most frequently made is khajuria. Jaggery and wheat flour are combined, deep-fried, and lo! This mouthwatering snack is prepared to satisfy those hungry pangs! To create new kinds, rice flour can be used in place of wheat flour and sugar can be used in place of jaggery.